Make a difference while building a career.
The Queen's Graduate Diploma in Immigration and Citizenship Law will prepare you for the Immigration Consultants of Canada Regulatory Council's (ICCRC) mandatory Entry-to-Practice Exam and equip you with the skills you will need to be a successful immigration consultant.
The Graduate Diploma launched January 2021. We are now accepting applications for September 2021.
Testimonials on the importance of the program.
From students to National Advisory Committee members, hear what people are saying about the Graduate Diploma in Immigration and Citizenship Law.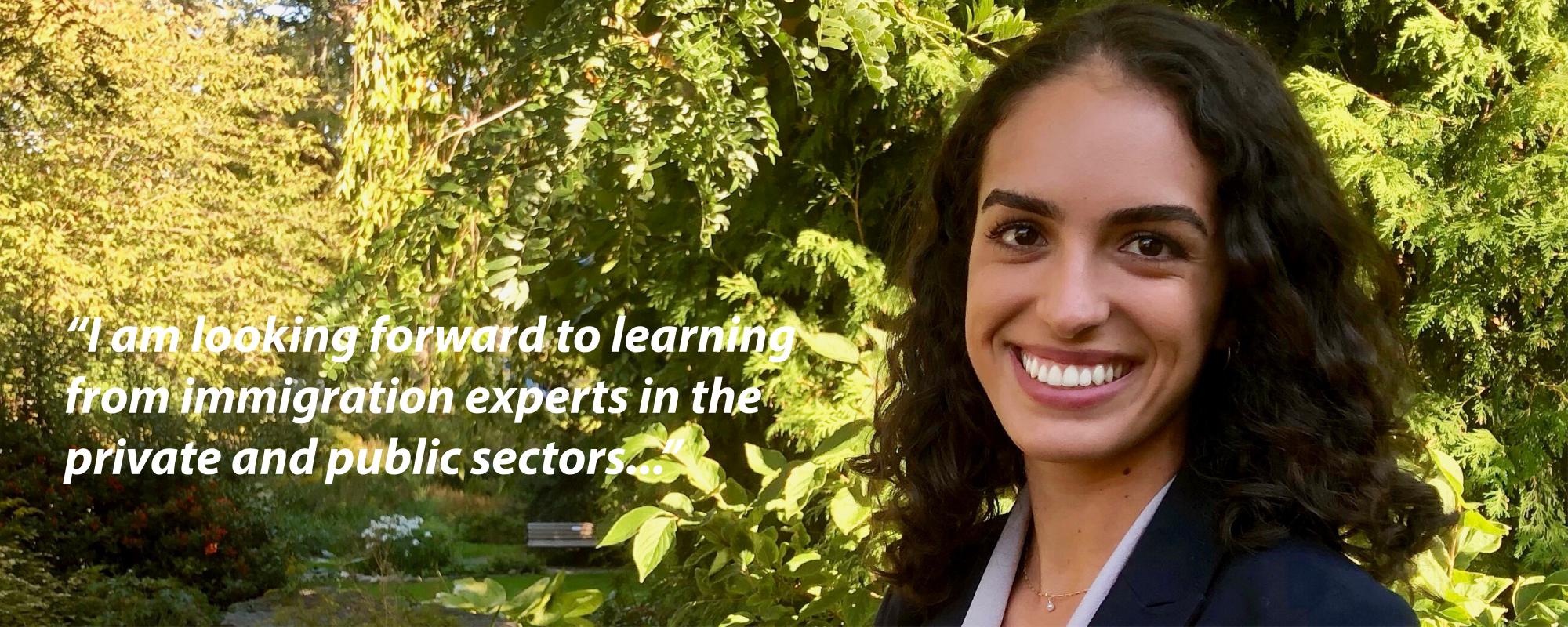 Alyssa Esteves, Student
During my undergraduate degree studies in sociology, I was drawn to issues within the spheres of diversity and inclusion – and I am particularly passionate about how they intersect with immigration. I chose to apply to the GDipICL because of its combined theoretical and application-based teaching approach, and the diverse team that was involved in the program's development and design. I am looking forward to learning from immigration experts in the private and public sectors, where multiple perspectives can be reflected. After completing this program, I hope to leverage my sociological lens along with my new skills to make both individual and societal contributions to immigration and inclusion in Canada.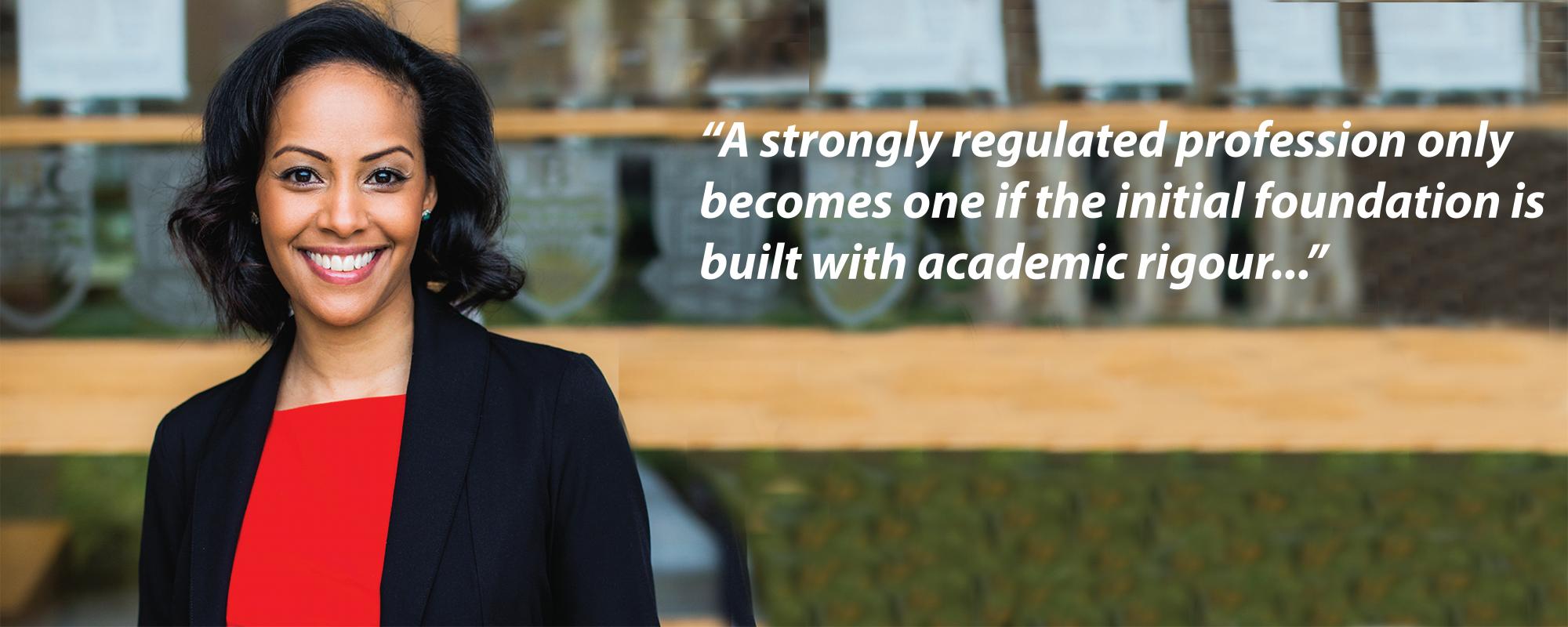 Rohene Bouajram, National Advisory Committee member
A strongly regulated profession only becomes one if the initial foundation is built with academic rigour, as well as a strong focus on practical skills and ethical responsibility. These principles are all embedded in the Queen's Graduate Diploma in Immigration and Citizenship Law. It's a remarkable program that will ensure graduates enter practice as competent and ethical professionals with all the tools to run their own business, as well as support the aspirations of their clients in making Canada home.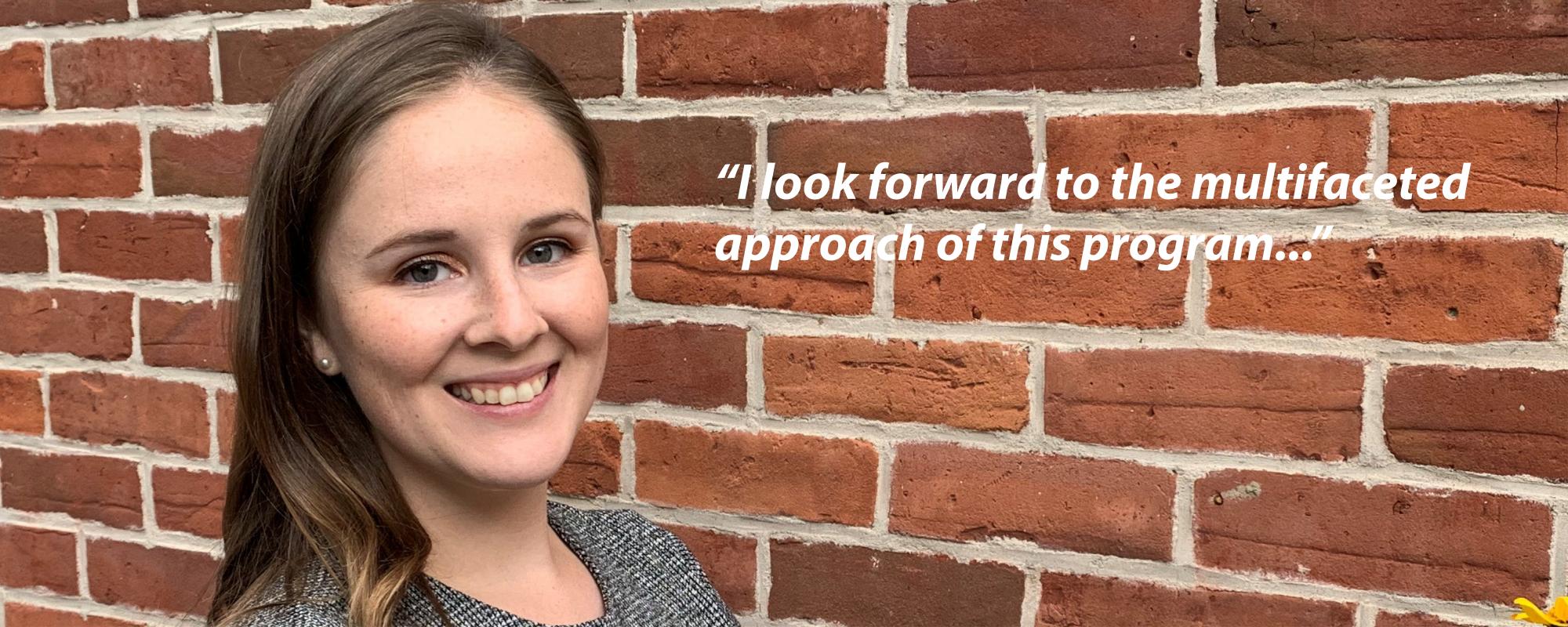 Alicia McIntyre, Student
I chose this graduate diploma to interact with and learn from the innovative network of professors, practitioners, and students who specialize in this field at Queen's. I have always had a strong interest in studying and working in immigration, and this program aligns perfectly with my goals of helping others navigate the complexity of Canada's immigration system. I look forward to the multifaceted approach of this program and the opportunity to develop both a well-rounded legal and professional background that will be required in my future career as an immigration consultant.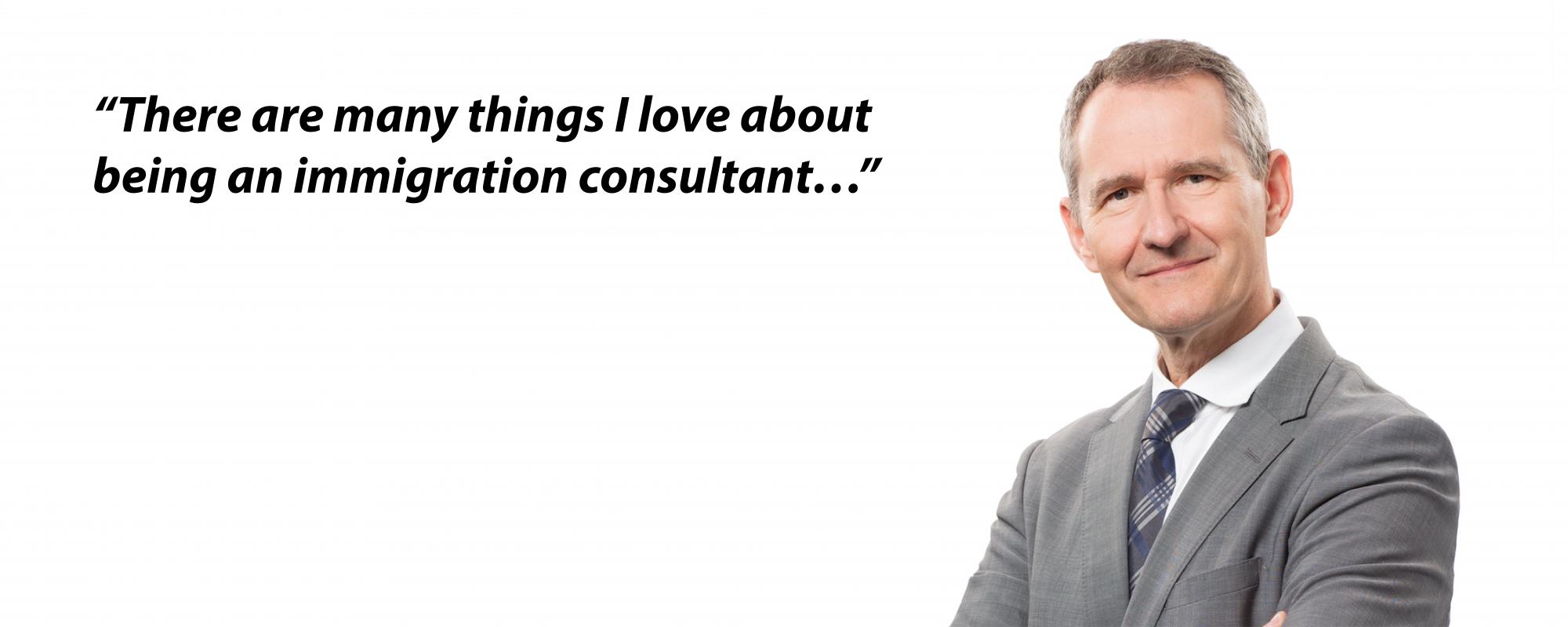 Peter Veress, National Advisory Committee member
There are many things I love about being an immigration consultant… variety in the type of work, the sense of meaning, connections to my community, personal growth and the feeling I'm contributing to my community and the entire nation.
Study, interact and collaborate - anytime, anywhere.
The Graduate Diploma in Immigration and Citizenship Law is designed and optimized for the online learning environment. You'll be able to work directly with faculty and your fellow students in online forums and discussions, and through group activities such as case studies, simulations, and more.
Who will benefit from the Graduate Diploma?
The Graduate Diploma is designed for individuals who are looking to enter Canada's immigration sector, as well as those seeking to enhance their skills and competencies about the immigration system to support and advance in their existing professions. It merges theory with practice to prepare students for a number of vital roles in the immigration sector, as well as functions that support organizations on immigration and citizenship matters. These include: 
Immigration consultants 
Paralegals 
Lawyers seeking specialized training in immigration law 
Advisors and recruitment specialists at universities and colleges 
Human resources professionals 
Leaders in immigrant settlement organizations  
Constituency assistants for members of federal, provincial,  and territorial legislatures 
Immigration and border policy analysts and program specialists in government agencies 
Business development leads at law firms 
Diplomatic services and consular support professionals
Complete the Graduate Diploma's nine courses over three terms in under 12 months.
The Graduate Diploma is a three-term, nine-course program that was designed from the ground up and optimized for experiential online learning. Students can complete the program in under 12 months to progress towards the Entry-to-Practice Exam, and an exciting career path in immigration. 
The program's courses are aligned with the Immigration Consultants of Canada Regulatory Council's (ICCRC) essential competencies for Regulated Canadian Immigration Consultants. They ensure students are equipepd with a deep understanding of Canadian immigration and citizenship law and procedures, as well as the knowledge and skills necessary for successful practice in this growing field.
 
Program update February 12, 2021:
The Graduate Diploma recently announced enhancements to its program structure. Effective September 2021, the program will be transitioning from a two-term to a three-term model to improve the educational experience for students and help position them for success both in the program and after graduation. Visit our
FAQ page
for more information.
The graphic below shows a high-level course breakdown for the September 2021 intake period. For information on individual courses, please visit our Courses page. 

Program components 
The Graduate Diploma is designed and optimized for online learning with weekly tutorials that feature direct interaction with instructors who are leading experts in the field. All courses include a schedule of synchronous, mandatory tutorial sessions. While timing varies between courses, students should expect about two to three hours per week, per course. Tutorials are typically offered on weekday evenings, Tuesday to Thursday between 4:00 – 10:00 pm ET and Sundays between 9:00 am - 12 pm ET. Learn more about tutorials on our FAQ page.
Self-directed learning is an important component of this program, aimed to prepare students for the rigours of the profession. Students are responsible for managing their learning strategies through self-directed work, including time and workload management, asking probing questions during tutorials, staying abreast of sector developments and charting their own intellectual exploration.  
Program experience
Download our program experience PDF to learn what to expect while taking the Graduate Diploma.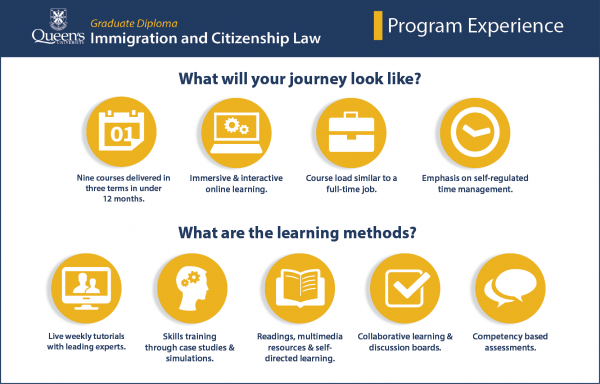 Part-time study options 
While the program is designed for full-time learning, to prepare students for the ICCRC's mandatory Entry-to-Practice Exam, part-time options are available on a limited basis. Part-time students have between 24 and 36 months to complete all program requirements. 
Please note that you must take ICL 810: Foundations of Canadian Immigration Law prior to other courses. Part-time students may take one or two courses per term. 
Single course enrolment as an Interest Student
Students who do not wish to apply for the Graduate Diploma but meet the requirements for admission can apply for single course enrolment as either an Interest Student for Program Credit or as an Interest Student for No Program Credit. Students can register for up to four courses individually.
Interest student category

Participation in Program

Outcome

Program Credit

•    Students can register for up to four (4) courses individually
•    Note: Program Credit students are required to take ICL 810, Foundations of Canadian Immigration Law prior to taking other courses

•    Assigned a grade upon completion of the course to use toward transcripts and GPA
•    Provided student has good academic standing (B- in all courses) may be eligible for Graduate Diploma
 
No Program Credit
•    Students are expected to participate in all aspects of the course but are not required to complete course assessments (quizzes or final assignments)
•    Not assigned a grade upon completion of the course
•    Courses cannot be used to satisfy program requirements towards Graduate Diploma
•    May be eligible for Continuing Professional Development (CPD) credit (substantive hours) with the Law Society of Ontario, and CPD/Mandatory Continuing Legal Education (MCLE) credits in other Canadian jurisdictions. Learn more HERE
 
Upon successful completion of this program, students will receive a Graduate Diploma in Immigration and Citizenship Law, which is recognized as a Graduate Diploma or "G.Dip" accreditation by Queen's University. While this program is delivered by Queen's Faculty of Law, obtaining a G.Dip does not constitute a Juris Doctor (JD) degree or qualify graduates to practice law in Canada. To become an accredited Regulated Canadian Immigration Consultant, applicants are required to write the Immigration Consultants of Canada Regulatory Council's (ICCRC) Entry-to-Practice Exam and meet all of the mandatory requirements outlined in the ICCRC's registration guide.
To read our program FAQs, click here.
To learn more about the Queen's Law JD program, click here.
Program Brochure
An overview of the Graduate Diploma including courses, admission requirements and application process can be found here. Download now to learn more about the program.