Harini Sivalingam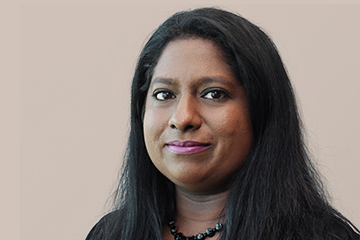 Harini Sivalingam (she/her) is completing a PhD in Socio-Legal Studies at York University, pursing research on how maritime forced migrants experience the law and legal processes throughout their journeys. 
Harini obtained her law degree at Osgoode Hall Law School (Toronto, Ontario) and her Masters of Law in International Comparative Law at McGill University (Montreal, Quebec).  She has worked as a lawyer in private practice and at community legal aid clinics in the area of immigration and refugee law providing legal information, advice, and representation to under-serviced communities.  
For over two decades Harini has been involved in anti-racism activism and community organizing on domestic and international human rights issues. She was an intern at the International Service for Human Rights in Geneva, monitoring and reporting on United Nations sessions.  Harini is currently on the Board of Directors for Lawyer's Rights Watch Canada.
Harini has presented her research at several national and international conferences including the Law and Society Association, the Canadian Association of Forced Migration Studies, the University of Trento (Italy), and the University of Lisbon (Portugal). Her research interests include immigration and refugee law, forced migration studies, critical border studies, human rights law, critical security studies, critical race theory, and post-colonial studies.